SIZE GUIDE
The MØSAIS team is committed to remaining close to its clients, assisting and advising you at the moment of your purchase, but also long after.
We have at heart to offer the best quality of service, and are attentive to your questions whenever they would occur, because MØSAIS jewelry is for life.
Feel free to contact us through the live chat would you have any question, we will be more than happy to assist you.
Rings
Different options to find out your ring size:
– You already wear a ring and you wish to order the identical size?
Print this MØSAIS guide, you will just have to place your ring on the sheet to find out your exact size.
– You do not wear a ring yet?
Print this MØSAIS guide, you just need to cut up the sheet and roll it around your finger to find out your size.
– You already know your ring size but it is not available on the website?
Contact us through the live chat!
Bracelets
To find out your bracelet size, measure your wrist with a measuring tape or with the MØSAIS ruler.
Roll the measuring tool around the wrist over which you wish to wear your bracelet and note down the length.
From 15.5 to 16.5 cm – size small
From 16.5 to 17.5 cm – size medium
From 17.5 to 18.5 cm – size large
If your measurements are outside these sizes, please contact us through the live chat!
Necklaces
Their length can vary depending on the type and the style of the necklaces.
Hereafter is an example of what it would more or less look like visually, depending on the lengths.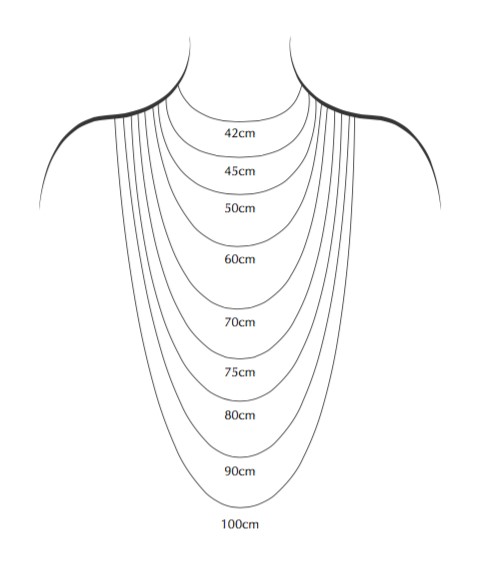 If your size is not available on our website, please contact us! contact@mosaisparis.com